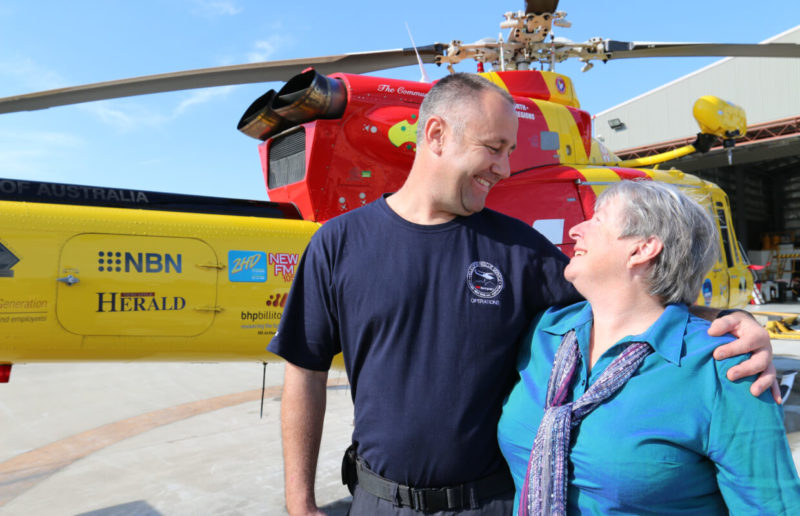 Rosalynd's first contact with the Westpac Rescue Helicopter was in August 2013 when she visited the Newcastle base at Broadmeadow as part of the Red Hatters.
The Red Hatters is a group of ladies over the age of 50 who get together for a good time and wear red hats and purple clothes. It is not normally a fundraising exercise, but over one lunch the ladies took donations and decided the Westpac Rescue Helicopter should be the recipient.
They were then invited to the helicopter base to make the cheque presentation.
"I remember admiring the helicopters, but never thinking I'd need one… Twelve months later, on 29 October 2014, the Service came to my aid," she said.
Rosalynd had woken up at 3.30am and decided, as you do, to finish the ironing. But she soon collapsed with unbearable pains in the back of her neck and head.
Two NSW Ambulances responded to husband Tony's Triple Zero (000) calls and she was taken to the John Hunter Hospital. The neurosurgeon was on holidays and after two or three hours it was decided she should be flown to Sydney's Royal North Shore Hospital.
"I remember waking up to see the roof of the helicopter, the shadow of the blades, and then a man's face and he said we're just going to give you some oxygen. And that's all I remember…. They are my heroes," said Rosalynd.
Next time she woke up was in ICU at the Royal North Shore Hospital in Sydney.
"I was there for about a month-and-a-half, and I remember I'd only been home a couple of days when the news came through that Phillip Hughes had died," she said.
On 25 November 2014, cricketer Phillip Hughes was hit in the neck by a bouncer during a Sheffield Shield match at the Sydney Cricket Ground, causing a vertebral artery dissection that led to a subarachnoid haemorrhage. He died on 27 November, three days before his 26th birthday, having never regained consciousness.
"He was 63 not out when his accident happened and that's how old I was when I suffered the aneurysm," Rosalynd  said.
"It really hit me, and now I find I really want to face things. I've learned to take a beautiful thing out of every day."
Rosalynd is writing a journal about her experience and is an avid supporter of the Rescue Helicopter. She never misses an opportunity to wave when the helicopter flies over her home.