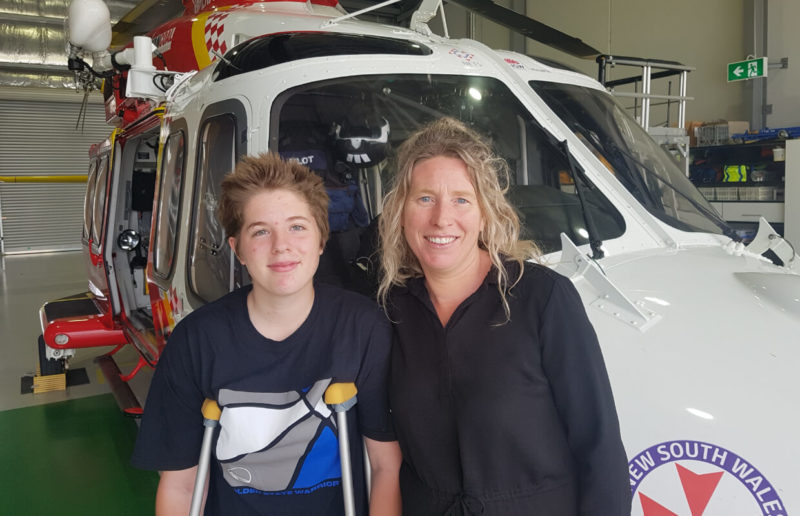 Fifteen year old Kiarna was riding her motorbike on the family property when the back tire blew out making her lose control and crash. She hit her head hard on the ground, the impact knocking her unconscious. Her two brothers were close by and noticed she was not moving. Nine year old Nathan ran to get mum, Carmel and 14 year old Tom raced to be by Kiarna's side.
NSW Ambulance was called and due to the access on the property the Rescue Helicopter was dispatched. The helicopter landed on the property and Kiarna was treated by the Critical Care Medical Team before being transferred to Gold Coast University Hospital.
Kiarna was placed in to a coma due to her head injury and surgery was performed on her skull to clear a blood clot that was forming.
Kiarna also had fractures in her spine which fortunately did not cause any long term paralysis.
After recovering from her surgeries, approximately three weeks post the accident, Kiarna was transferred to Brisbane to start her rehabilitation. Exercises specific to balance were the focus plus building strength in her legs, improving motor function and speech work.  Astoundingly a week after treatment she was well enough to return home. Still struggling a little with some cognitive functions, Kiarna would often become confused trying to remember everyday things.
Like many of our past patients, Kiarna does not remember her ride in the Rescue Helicopter and was in awe on how big the AW139 was when she visited the Lismore base.