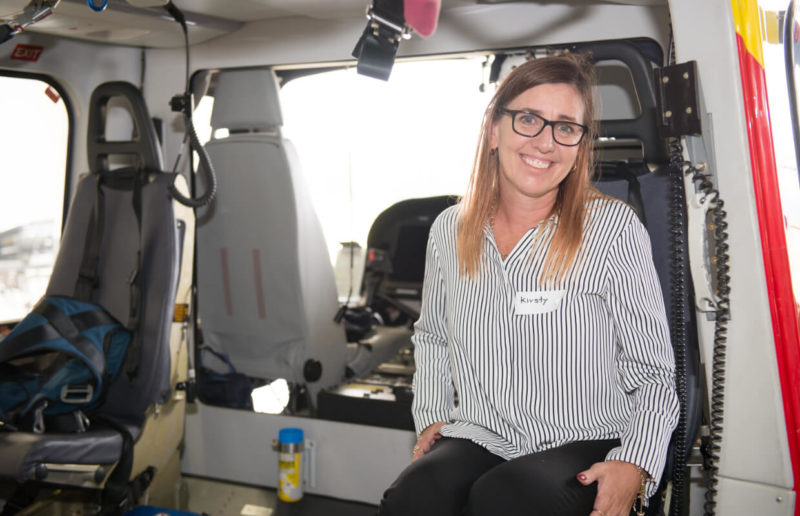 Kirsty survived a horrific head on motor vehicle accident on the Summerland Way, 20kms north of Grafton. Tragically this same accident claimed the life of her husband Stephen who was driving at the time.
Kirsty was in a serious condition and was resuscitated at the scene and a further two times whilst in the Westpac Rescue Helicopter. Kirsty says she was kept alive by the Medical Team until they delivered her to the Gold Coast University Hospital.
"I can't imagine how I would have coped as a first responder to an accident such as this. I can only praise those who were, and all the Emergency Service's that respond on a regular basis such as the NSW Police/Fire/Ambulance, SES, Rural Fire Brigades and Volunteer Rescue Associations. These Service's provide vital assistance from the scene of an emergency and this care is continued in flight by the Westpac Rescue Helicopter crew," Kirsty said.
For Kirsty, the account of her internal injuries is hard to fathom as she underwent major surgery to her bowel, stomach and diaphragm. There was swelling and bleeding on her brain with a total of five blood transfusions performed.
Kirsty also endured two strokes which left her blind for ten days and with no use of her left hand side.
She had to learn to walk again and the steps she took into our Lismore base some 8 months later with daughter Kristal, left everyone in the team captivated by her story of heartache and will power.
Fittingly for Kristal, after witnessing her mother's extensive medical treatment she is now aiming to become a NSW Ambulance Paramedic.