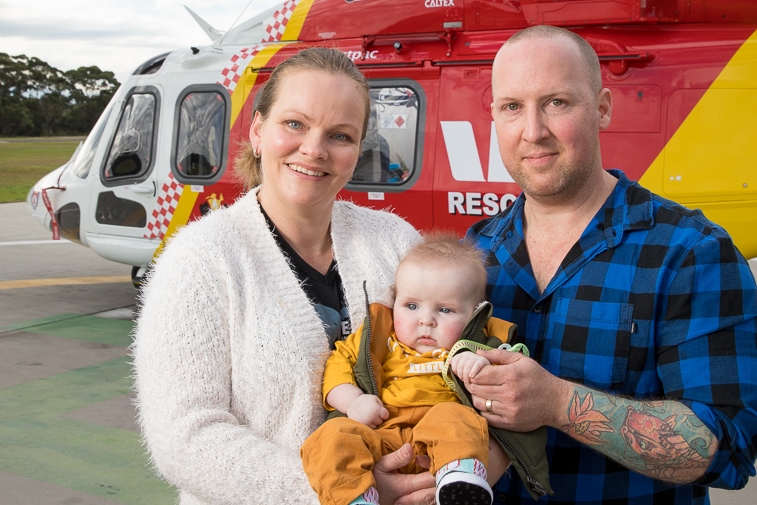 Baby Christopher spent four of his first five months in hospital.
He was born with a rare medical condition called tracheoesophageal fistula (TOF). This meant that his oesophagus did not connect to his stomach and he was born unable to swallow. If left untreated, Christopher would literally drown in his own saliva.
Just days after his birth, Christopher required surgery. His condition was complex and his parents Joanne and Rob recall a lengthy six week recovery in hospital.
Not long out of hospital, baby Christopher experienced a frightening medical episode.
"Christopher had sounded rattly and Rob and I re-positioned him to his side as this normally helped – instead this time it had the opposite effect and he just stopped breathing. It was a very strange sound and I grabbed the phone and dialled 000 immediately," Joanne said.
"I didn't realise it was any different to previous episodes until a couple of minutes into the call when it became clear that things were really wrong this time, I just knew we needed help," she said.
While Jo was on the phone to Triple Zero (000), Rob moved quickly to provide his seven week old baby with CPR.  Rob is in the Rural Fire Service and had undertaken first aid training which included children's first aid before Christopher was born.
This was the second time that Christopher's parents had called Triple Zero (000). A few days earlier, he was transported back to hospital after going blue, floppy and unconscious. He was discharged the following day only to become seriously unwell a day and half later.
Within 17 minutes there were three ambulances, two police cars and the Rescue Helicopter had landed.
"Rob and Jo's quick thinking saved their little boy's life," said Sean Valance who was the NSW Ambulance flight Paramedic on board that afternoon.
The helicopter landed at the school oval in Gwandalan, Lake Macquarie and he was flown immediately to the Children's Hospital at the John Hunter Hospital before being flown to the Sydney Children's Hospital for another major surgery.
Christopher has undergone two major and 12 minor surgeries.
"He still has some hurdles to jump, but he is a pretty strong little boy and doing well. He has the best medical team with him. Because of the amazing work of our emergency services and the team at the Rescue Helicopter he was put in the specialist care he needed so quickly. We are so grateful to everyone," Jo said.