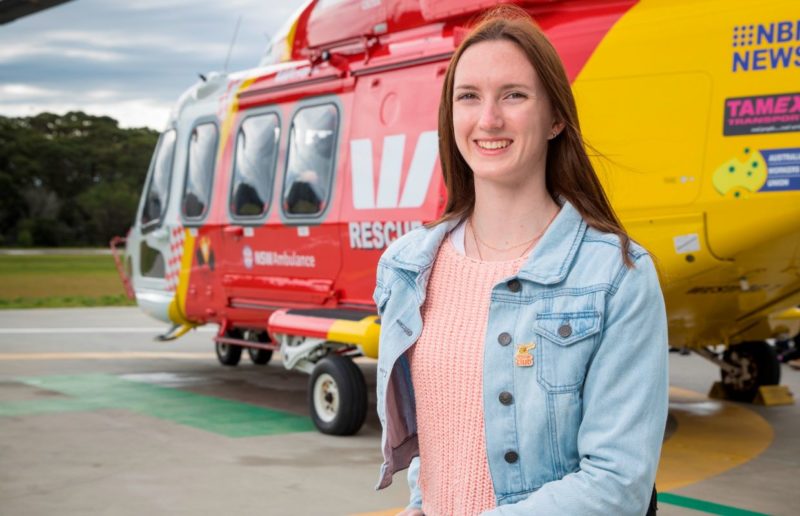 Aimee's Story – in her own words…
The 12th of December 2017 is a night I will never forget, but three years on there are distinct moments that have stuck with me. After a fall at gymnastics training left me immediately paralysed from the hips down, a NSW Health doctor on the Westpac Rescue Helicopter made the critical decision to airlift me to Royal North Shore Hospital in Sydney.
As someone who fears flying, I was certainly disappointed to miss out on a proper ride in an ambulance and was quick to protest against a ride in the chopper. Perhaps it was the morphine injections, but my flight with the crew is one of the best experiences I have had in the air, despite the circumstances it was under. Whilst managing my medical situation, they took the time to connect with me and make my experience as positive as possible. Thinking beyond their task, they allowed my Mum to fly with me so that I would have support in the hospital.
A memorable part of my transfer was a crew member taking photos of the city lights through the window and showing me these along with writing messages on his iPad. I spent three weeks in hospital and nine weeks in rehab before coming home, determined to return to normality as soon as possible.
While in ICU I created a list of things I wanted to achieve, most of which at that stage I wasn't sure I would be able to do in a wheelchair. Since my injury I have completed Year 11 and 12 and I am now studying a Bachelor of Medical Sonography/Graduate Diploma of Medical Sonography, began training and competing in Para Athletics track events where I am aiming to qualify for the Paralympics and broke Australian records in two throwing disciplines.
I got my license and relearned to drive with hand controllers. I returned to the gym where I became paraplegic, spending a lot of time coaching, judging and training with my teammates. I have been sit-skiing, danced again at my dance studio and got to wear beautiful dresses to my school Presentation Ball and Year 12 Valedictory Dinner.
I worked with my physios to learn to stand with supports so I could have photos with my friends and family at these events without my wheelchair, encouraged the involvement of other children with disabilities in sport, and went on my first trip overseas to compete in a series of Athletics meets.
I have since experienced the kindness of the Westpac Rescue Helicopter crews on two other occasions. A Tamworth crew who were waiting with the chopper after a task to John Hunter Hospital spoke with me after noticing my interest, allowing me to look inside the aircraft and wear their helmet and night vision goggles after hearing my story. At a base event I was also lucky enough to meet one of the pilots who flew me to Sydney, allowing me to personally thank him for the role he played that night and tell him about the things I have achieved since.
I will be forever grateful for the Westpac Rescue Helicopter airlifting me to Sydney to receive the most specialised care available and playing a part in receiving the best possible outcome from my injury. Flying decreased the time between my injury, diagnosis and surgery allowing my spinal cord to be decompressed and stabilised sooner – a critical period of time where every minute was causing irreversible damage to my spinal cord.
Thanks to the people around me and a lot of hard work I was able to remain an independent young adult and achieve anything I set my mind to, sometimes I just have to be a little more creative in my approach.